John Deere Rasentraktor-Teile-4A3010 (JD-H31813)
Produktdetails:
Typ-Blades
Verwenden von Erntemaschinen
Ort der Herkunft Zhejiang, China (Festland)
Markenname kombinieren
Modell Nummer H31813
materiell 65Mn oder 60Si2Mn
Farbe schwarz, Natur, oder wie Sie wollen
Thichness 3mm - 6,5 mm
45-58 HRC Härte
Zahlung & Versand-Bedingungen:
Mindestbestellmenge: 100 Stück/Stück
Hafen: Shanghai, Ningbo
Verpackungsdetails: Neutrale Kartons und Paletten für freie Begasung oder Stahl Fach, wenn es keine besonderen Anforderungen gibt. Aber ist ist für bunte Paket nach Ihrem Entwurf zur Verfügung oder wir machen Design für Ihre Marke, ggf....
Lieferzeit: 20 bis 50 Tage
Zahlungsbedingungen: L/C, T/T
Versorgungsmaterial-Fähigkeit: 2.000 Stück/Stück / Tag 45 Tage
Ausführliche Produkt-Beschreibung
Gehäuseteile: Abschnitt Messer, Klinge, Messer Kopf, Fingerschutz, Gürtel, Raspel, halten Sie den Clip, Riemenscheibe, Kette, Ritzel, Getriebe und So weiter.
Material: 65Mn oder 60Si2Mn
2): scharfe Kante oder Zähne
3) Wohnfläche: nur mit Anti-Rost-Öl; Lack Lackieren; verzinkt; Verchromt; Bläuen, etc. Unterschiedliche Oberflächenbehandlung zum Schutz gegen Korrosion.
4) Größe: Länge, Breite sind beide auf Wunsch geändert werden können.
5) Härte: 45-58 HRC, Induktion Härten Prozess garantiert lange Abnutzung.
6) Stärke: 3,00 MM bis 6,5 MM;
7) Wir können Weg Bestellung akzeptieren.
8) keine Proben oder detaillierte Zeichnungen sind hier herzlich willkommen. Wir haben professionelle Ingenieure, neue Produkte mit Ihnen zu entwickeln.
9) Willkommen Sie in unserem Unternehmen zu besuchen und die Zusammenarbeit zu diskutieren.
Wir haben landwirtschaftliche Ersatzteile, einschließlich kombinieren Messer Abschnitt International seit ca. 10 Jahren bieten.
10). Verpackung: normale Ausfuhrgenehmigung
11). Zertifikat: CE und ISO9001, Alibaba Handel Bewertung
Agricultural Exhibitions we attended

Ningbo COMBINE Machinery Co., Ltd will attend AGRITECHNICA 2015 .

COMBINE stand is Located in Hall 15 Stand No. 15-C35.

Visit us, you will find interested new spare parts for drilling and

sowing machinery, combine harversters, plough cultivators, disc harrow,

rotary tillers, lawn mowers and compact loaders.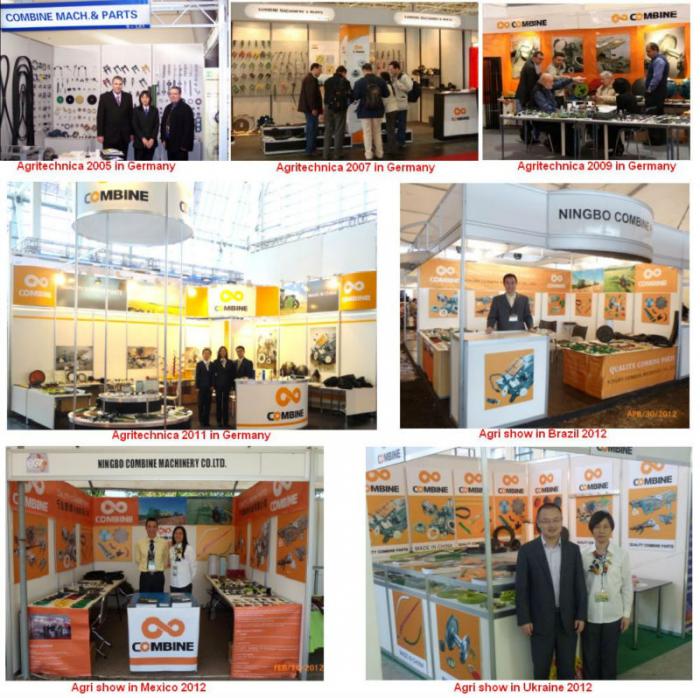 Certificates we own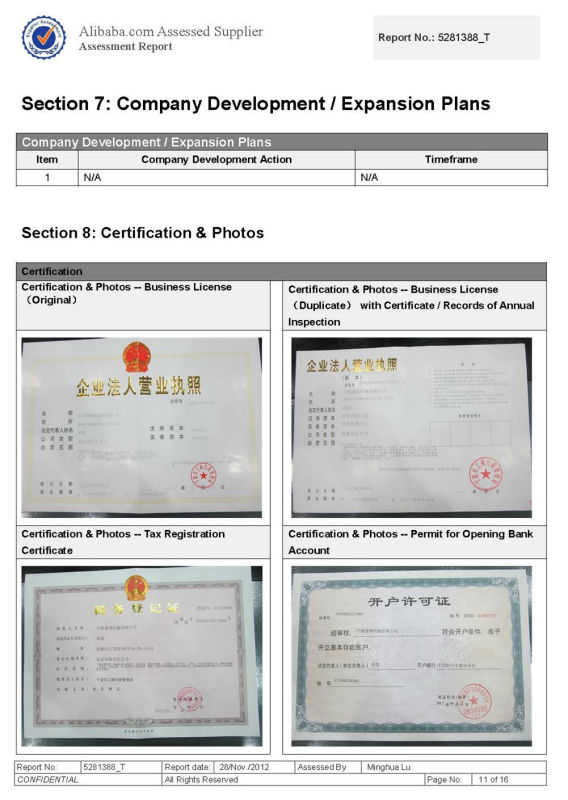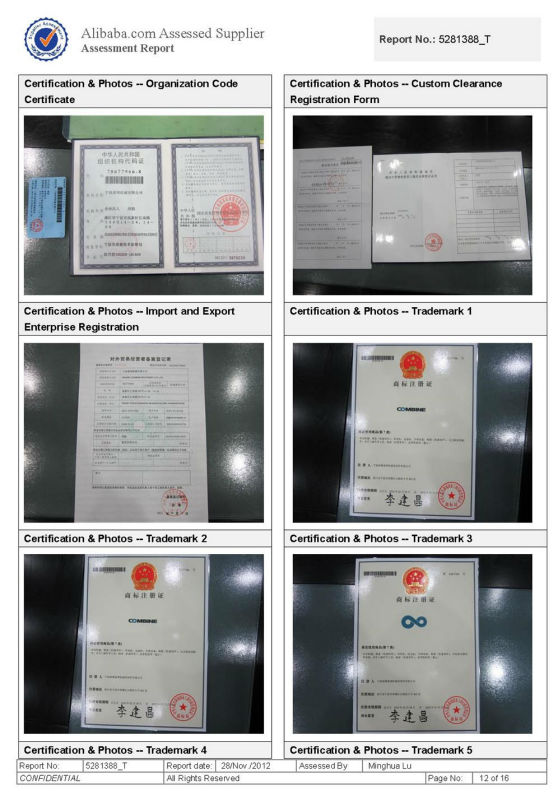 Other products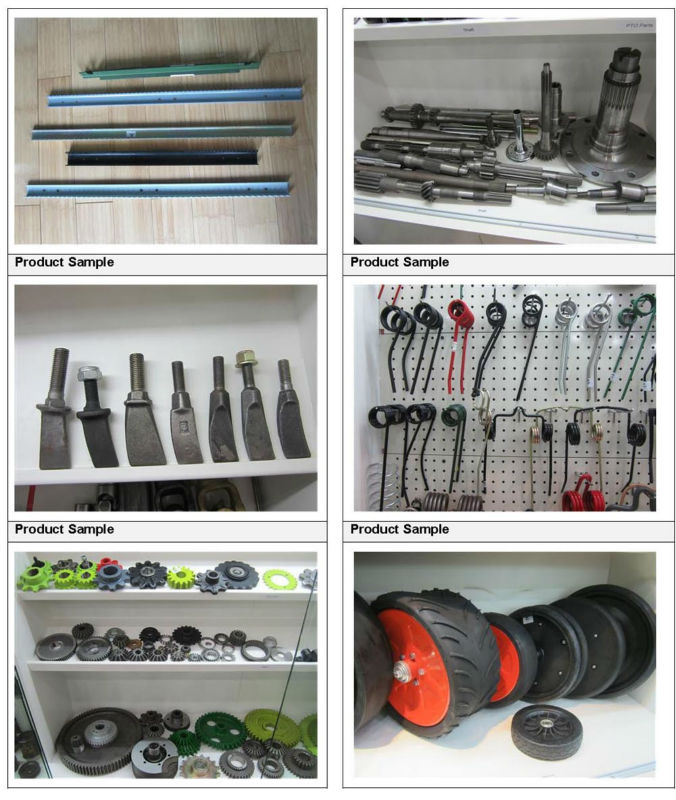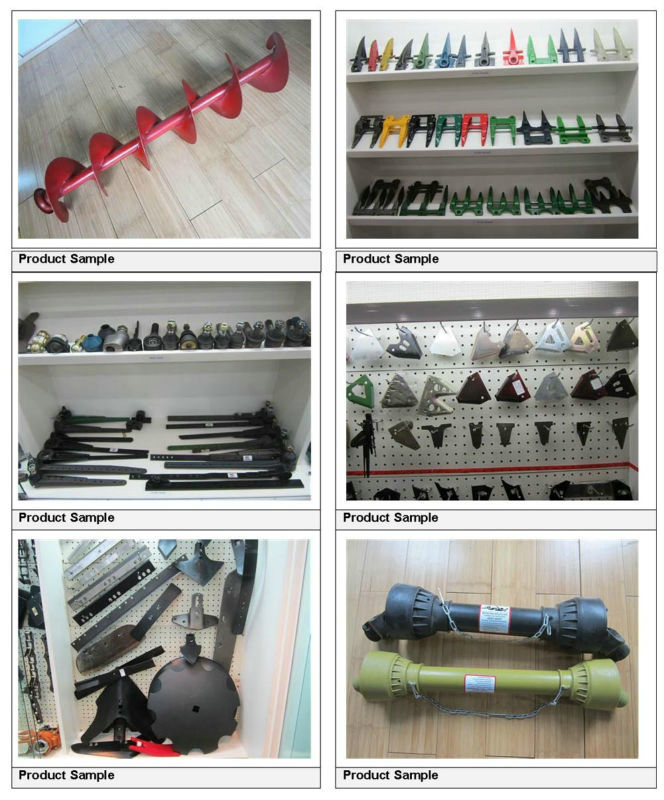 Ningbo Combine Advantage

1. We have been working internationally in the area of agricultu al parts and bearings since 2002 and have excellent knowledge,experience in the agricultural field.

2. We offer over 1000 different spare parts for a wide range of agricultural machinery, from combine harvesters, mowers,rakes to balers.They are used for various makes like John Deere, LAVERDA ,Claas, New Holland and Case/IH.

3. Averagely we add at least five new items monthly to our production range. This wide supply and quick development are our big advantages over our competitors

4. [Quality",[honesty"and[service" is our principle, we export to more than 56 countries at present, mostly to Europe.



Produktgruppe : John Deere Ersatzteile